As a member of the International Society of Appraisers, Sue McGovern, President of Sands of Time is qualified to provide professional written appraisals that conform to standards established by the National Uniform Standards of Professional Appraisal Practice (USPAP).

We can authenticate and appraise individual works of ancient art or entire collections. Appraisals can be provided for authentication and identification, estate matters, museums, insurance and tax donation purposes. Every appraisal is personally prepared by Sue to ensure that the work adheres to the ethical and professional guidelines of the Appraisal Foundation's Uniform Standards of Professional Appraisal Practice (USPAP), IRS regulations and the high standards of the ISA.

We invite inquiries from individuals, estate liquidators, museums, educational institutions, consultants, architects, interior designers, as well as colleagues, collectors and investors. Please contact us for further details.
---

Do you have antiquities you would like to sell or consign? Sands of Time purchases both individual items and entire collections or, we will work for you on a consignment basis to help maximize your return.

We also represent and acquire on behalf of our clients, desirable works of ancient art at auction sales worldwide. Please contact us for further details.
---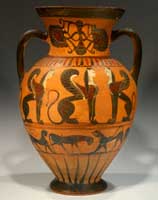 Should a much loved piece be broken or suffer losses, cracks or corrosion we can assist with the services of our museum trained conservator, Nina Owczarek. Nina holds an MA in Art History with an Advanced Certificate in the Conservation of Historic and Artistic Works, NYU. She has worked for the Smithsonian Institution as a Post-Graduate Fellow in Conservation at the National Museum for African Art.

Treatments are available for objects made from ceramic, glass, stone, metal, wood, leather and ivory just to name a few. A full treatment report is provided showing a before and after photo, detailing all materials and methods used in either the restoration or conservation of the object.

Please call, bring your object in for a repair quote or contact us for further details.
---